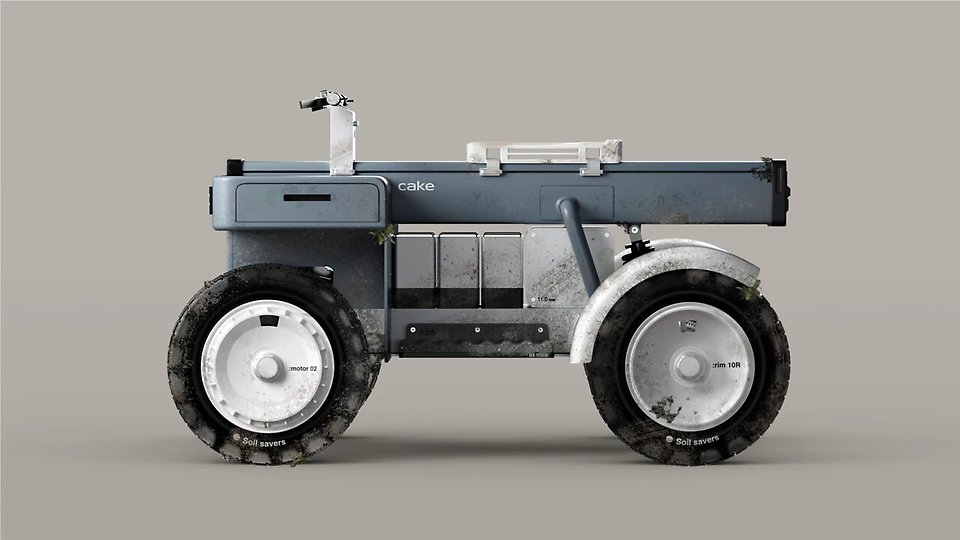 From render to reality – Electric ATV grad project to hit the market
"The Kibb", Fanny Jonsson's grad project concept for an electric all-terrain vehicle (ATV), is becoming reality. The design, developed during the spring of 2022, envisions an autonomous ATV built to respect the land's biodiversity and agricultural challenges for delicate ecosystems.
Fanny's design concept is now going from render to finalized product, expected to hit the market in 2025. The vehicle is being developed by CAKE, a Swedish company creating light EV motorcycles, where Fanny is now employed.
From a sustainability perspective, it is important to develop regenerative agriculture. Currently, the access to non-pollutant transportation and machines is limited. Based on this, the idea of Kibb was born. The word Kibb means ox in Gutniska, a dialect from the Swedish island Gotland. The name is meant to represent the strength of the vehicle as well as the limited mark an animal has on nature, irrelevant of its size.
I'm so happy and honored that my thesis project will continue its journey from render to reality together with CAKE. Agriculture is one of the industries that contributes the most to greenhouse emissions and therefore it could slowly lead to its own demise unless new solutions for regenerative farming can be reached, says Fanny Jonsson, graduate from the MFA Programme in Transportation Design from Umeå Institute of Design.
The Kibb is a gentle vehicle designed to, at all times, make as little impact as possible, while still providing the user with the power and capability that's needed. The modular body of the Kibb will have different attachment points to allow for compatibility with a wide variety of ATV accessories. It can also act as a mobile power station, providing the farmer with a new best friend to perform the day-to-day duties associated with regenerative agricultural life. With its level of autonomy, the Kibb can do many tasks by itself. This could free up time for the user to do tasks on the ranch or farm where supervision is needed.
Learn more about this project
Articles and information about the project:
Umeå university, From render to reality – Electric ATV grad project to hit the market

External link, opens in new window.
Cake, website about project Kibb

External link, opens in new window.