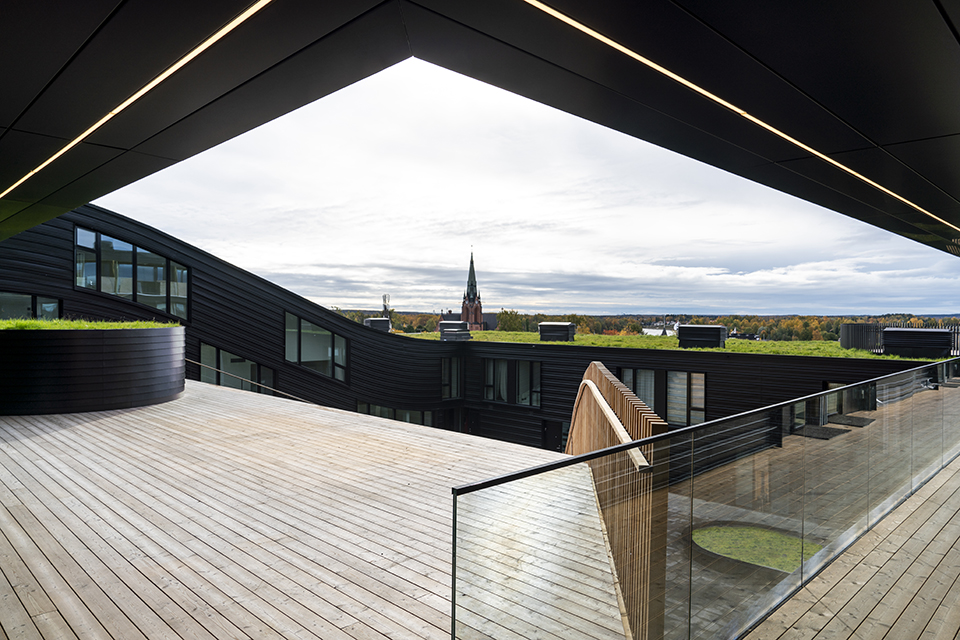 The benefits of aiming high
Wood is on point. It's also environmentally and financially sustainable. The culture house Sara in Skellefteå and the residential building Glitne in Umeå have shown us new ways of building in wood.
West Bothnian cities are growing like weeds. Literally. Many of the buildings rising to the skies are built in wood. When Kulturhuset Sara opens in Skellefteå this autumn, it won't only be known as the city's landmark. At eighty metres, it will be one of the tallest wooden buildings in the world. And in Umeå, the light wooden frame of the Glitne housing development winds bravely atop the city's central mall. Wood from the depths of our forests is forming the architecture of our future.
– For us at BIG, Glitne is the first project we've done like this with wood on top of the existing building. Densifying and designing something that is more multifunctional and urban like that feels very visionary and metropolitan, says David Zahle, managing partner of the project at the Danish architect firm BIG, Bjarke Ingels Group.
I find him on the Danish Faroe Islands for a phone chat. He is currently based in the barren and magnificent archipelago in the North Atlantic, where wood has come to play an increasingly prominent role in recent years.
– Some years ago, wood was one of many materials of choice. Today we ask, should we build in wood? If the answer is no, why not? As architects, we mustn't build for our time, what we do must be relevant for the future. So we must embrace more extreme solutions. If sustainability isn't at the heart of your project, you will regret it, says David Zahle and emphasises the importance of maintaining and utilising the resources that are available in existing buildings.
Built to last for centuries
– Wood is a material that requires a relationship with it. The best way to build sustainably is to make a building that people get emotionally attached to. A building that is loved and cared for can last for centuries, says David Zahle.
Apart from the recently completed Glitne, BIG are working on a number of wooden projects, from an eight-storey office tower in Luxemburg and a completely new city district for Toyota in Tokyo to a factory in the Norwegian forest, clad in shimmering charred wood.
– One of the driving ideas with Glitne was to elevate the apartments to give them a view of the city skyline. Living in a penthouse is exclusive, but you're alone up there. It was very important to us that it would fit enough people to create a social context. It takes a critical number of people to give a building life, says David Zahle.
He compares the Forsete district, which houses a mall, a hotel and offices in buildings from the last turn of century until today, with a cubist painting seen from above. With its organic shape and green roof, Glitne both interacts with and deviates from surrounding architecture.
– We drew a line of two-storey buildings surrounding a communal garden on the fourth floor. In a way, it's like living on a mountain, a mountain made up of the features of the city and the block, says David Zahle.
Planning for a sustainable future
That is part of how Tomas Strömberg, city architect for Umeå, wants the city to grow when it aims to go from today's 135,000 residents to 200,000 in 2050 in this strongly expansive region. In his professional role, he looks way into the future. What is built today must have the qualities to last for a hundred years.
– Growth areas like Umeå must develop the city's buildings in a more innovative way than before when we simply knocked down the old to make room for the new. There are both creative and innovative aspects of sustainability and circular economy that is challenged and tried by this type of construction, says Tomas Strömberg.
Since the beginning of the noughties, he has followed the technology of building high-rises in wood, from simple extensions to complex projects with high levels of artistry.
– Looking back, the architectural, structural and methodological developments have been enormous. Wooden architecture has served as a way to break new ground, it's raised awareness and raised architecture in general. It's also helped small local architecture firms get off the ground, says Tomas Strömberg.
If sustainability isn't at the heart of your project, you will regret it, says David Zahle
Working with the best
Behind Glitne and some of Umeå's most notable projects like Kulturhuset Väven and the Arts Campus is property company Balticgruppen. Since the millennium, they have worked with a number of top Scandinavian architects, among them Wingårdhs, White Arkitekter, Snøhetta and Henning Lassen. Larch wood, which has often been used as cladding, is now playing an increasingly bearing role.
– It's a combination of money, time and looking for interesting new forms, as well as a growing awareness of sustainability and caring for the earth's resources. In the past, people have often opted against wood to allow for fast and year-round construction. Cross-laminated timber (CLT), has opened up new methods of high-rise construction. That's where local company Martinsons, builders of wooden bridges all around the world, have been the driving force and accounted for much of the technological advancement. They've been incredible at developing ways to refine wood and make use of waste material so that entire trees are utilised, says Jonas Olsson at Balticgruppen.
Because of its position, Glitne, which like many of Umeå's developments got its name from Old Norse mythology, was a challenge for the company. Jonas Olsson likens the building, named after the goddess Forsete's shiny polish, to a snake that runs along Kungsgatan and rests its eyes on its own tail.
– It isn't always easy to build something on top of an older building. Many times you have to go down and reinforce existing joists and frames. Wood is a lightweight material that reduces the burden, says Jonas Olsson.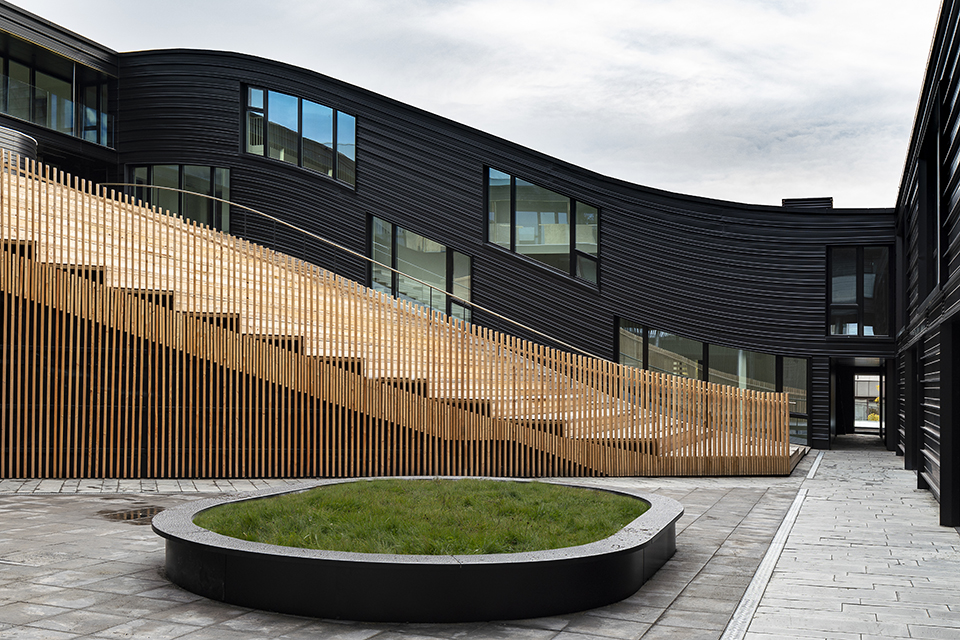 Collaboration across the sectors
Glitne can be seen as a prime example of timber-on-top, which is the name of both a concept and a collaborative project where the public sector, businesses and research meet. Linköping University and Luleå University of Technology are responsible for the research in partnership with the state research institute Rise. Sverige Träbyggnadskansli and Wood City Sweden are project managers, conveying knowledge about wooden extensions where existing buildings are developed and reused.
– The city's annual rings aren't only spread geographically, they're also growing vertically. Concrete as a material may last forever, looking at buildings from Roman times. And it's good from a sustainability perspective that concrete frames from the 1960s and 70s are being maintained. But questions do arise. Should new architecture adapt to or instead challenge the existing? There are also different models of working with prefab systems. That's where I'm happy that Rise are doing the research of Timber on Top and discussing with architects and structural engineers, says Tomas Strömberg.
Through industrial prefabrication of wooden structures and modules in factories, the timber is kept dry and the construction time is reduced, which has given wood more competitive power in the construction industry. Internationally, the term plyscrapers has been coined, skyscrapers that are fully or partly built in wood. Tomas Strömberg would love to see a greater diversity of regional features.
Incorporating local knowledge
– Here in the north, we have many legacies connected to local minorities. And the local building culture, like log cabins, shepherd huts and Sami architecture holds a lot of very sustainable perspectives. It would be interesting to see those patterns and talk about them more in today's architecture.
The low weight of wood is not its only advantage. Compared to more traditional and heavier frames in steel and concrete, wood is an organic and renewable resource that emits no greenhouse gases. On the contrary, it binds carbon dioxide. Given that the built environment of cities accounts for more than a third of our CO2 footprint, and that the construction industry guzzles half of the world's natural resources that are used annually, materials like pine and larch have great potential.
The start of something great
– We are at the beginning of something much bigger than climate smart construction. We have a huge cluster of wood here in the north with forestry, lumber industries and companies from architects to carpenters, sawmills and window manufacturers. Wood has a lot going for it right now, says Stina Berglund, project manager at Region Västerbotten for the initiative Arctic Design, which supports architects, designers and artisans.
In her hometown of Skellefteå, she has followed the construction of the new culture centre Sara, named after West Bothnia's great author Sara Lidman, designed by White Arkitekter and built using wood from the local area. The building will house six malls and be home to Västerbottensteatern, the City Library, Skellefteå Konsthall and Museum Anna Nordlander (MAN). On top of it, the new hotel rises like a glazed plyscraper 80 metres up to the sky. The wooden room modules were made locally by wood company Derome and can be described as boxes of light-coloured plywood with a breathtaking view of the city and the river. Just like Glitne, Sara has a frame of wood that is cross-laminated in durable, fireproof structures custom-built by Martinsons in nearby Bygdesilje.
– Such and investment in the arts is very significant. It's wonderful with a statement like that in wood and that Sara is so tall, big and sassy. What we're seeing is a far cry from how you'd imagine traditional Norrlandian wooden architecture with red and white houses, says Stina Berglund.
She names a row of examples. The Swedish pavilion at the world exhibition in Dubai next year will be built in West Bothnian wood. In the Lule River bobs the floating sauna Arctic Bath, its sophisticated design inspired by historic log driving. Private villas are testing new methods, as are residential high-rises like the Tallbacken in Piteå, designed by local architects Nordmark & Nordmark. And a new mountain bike park winds its way down the Vitberget in Skellefteå.
We are at the beginning of something much bigger than climate smart construction. We have a huge cluster of wood here in the north with forestry, lumber industries and companies from architects to carpenters, sawmills and window manufacturers. Wood has a lot going for it right now, says Stina Berglund,
Investing in a sustainable way of life
– Massive investments are being poured into the region's industry and infrastructure. Every street corner in Skellefteå is being developed and densified. We speak a lot about life between the buildings and new ways of living. We're close to everything here and have access to beaches, hiking trails, skiing, barbeque huts and fresh clean water. For many designers, artisans and architects, wood and sustainability is deeply rooted in their DNA. You wouldn't pollute the mountain or burden the environment, says Stina Berglund.
In the wake of wooden architecture's success, there has been talk of the need for sustainable forestry that protects biological diversity and local cultural heritage alike. Perhaps it will soon be possible to trace the tree trunks used wooden buildings literally back to their roots.
– Today we're questioning so-called clearcutting as a felling method and pushing for a more selective way of felling that spares the forest. That's an important debate if we're to be sustainable on all levels. Imagine knowing where the wood in your house comes from and under which conditions it's been raised and felled, says Tomas Strömberg.
Text by: Carolina Söderholm
The article was originally published in Form Magazine, 3, 2021.
Learn more about Glittne
Visit Balticgruppens website for more information about BRF Glittne in Swedish, and for more images of the interiors.
Balticgruppens website for BRF Glittne

External link, opens in new window.